2020 Online Exhibit Booth Samples
Your virtual exhibit booth includes the following elements:
Up to 200 words of text including hyperlinks to website(s) and product page(s)
Two graphical items (company logo, product logo,  product photo, etc.)
One video link (Vimeo or YouTube) – additional videos may be added for $125 per video
A "Contact Us" button that links to an email you specify
Post-meeting Google Analytics on the Virtual Exhibit Page as a whole
One log-in to the 2020 Virtual Chapter Meeting
The online exhibit center will remain online until the 2021 Annual Meeting. At the bottom of the exhibit page will be an opportunity for registered attendees who have visited to enter into a raffle to win an Amazon Gift Card. The raffle will be live starting on Tuesday October 27th. All entries will be verified against the paid registration list.
Additional Sponsorship Opportunity
Given the unique nature of the 2020 meeting we are only offering a General Conference Supporter
for a fee of $500 if you wish to provide additional support to help offset our costs this year.
All supporters will receive:
Acknowledgment in the Solutions Center and on the Meeting Summary page (active after
the online meeting concludes)
Recognition of your support from the podium at the business meeting
According to ACCME Standard 4 "Arrangements for commercial exhibits or advertisements cannot influence planning or interfere with the presentation, nor can they be a condition of the provision of commercial support for CME activities." Therefore, this option reflects fees for support opportunities only. All firms are encouraged to secure Online Exhibit space in addition to meeting sponsorship.
Please scroll to the bottom to purchase your 2020 Virtual Exhibit Booth.
Below are samples of what an online exhibit booth might look like using the Chapter and the Collaborative as models. .

The CT Chapter of the ACS is dedicated to achieving the highest standards of surgical care through education, mentorship, fellowship and advocacy.
Successor organization to The Connecticut Chapter of the American College of Surgeons, Inc. (CTACS) which was founded in 1967, The Connecticut Chapter of the American College of Surgeons Professional Association, Inc. (CTACSPA) was organized in 2005 to promote the aims, interests, ideals and programs of the American College of Surgeons and to advocate for surgeons and patients in Connecticut. We work towards achieving our mission by providing educational opportunities for physicians, residents and students in Connecticut.
Click on the link below to download:
CTACSPA Certificate of Incorporation
CTACSPA By-Laws
Learn more by visiting www.ctacs.org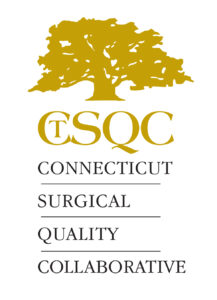 The Connecticut Surgical Quality Collaborative (CtSQC) is a statewide not for profit initiative where all 28 of the 28 Adult acute care hospitals and 2 Pediatric hospitals that offer surgery participate in a data sharing framework to improve patient outcomes.
The CtSCQ formed in 2008 with four hospitals, St. Francis Hospital and Medical Center, Yale New Haven Hospital, Middlesex Hospital and Danbury Hospital. In 2011, CtSQC was recognized by the American College of Surgeons National Surgical Quality Improvement Program (ACS NSQIP) as an entity. In 2013, the Collaborative had grown to 24 participating hospitals and has partnered with the Connecticut Hospital Association (CHA) and the Connecticut Chapter of the American College of Surgeons (CTACS).
Visit us at www.ctsqc.org
To learn more about our Geriatric Protocols for Surgery visit www.ctgps.org