The 2019 Annual Meeting was held on Friday, 11 October, at the Marriott hotel in Trumbull, CT.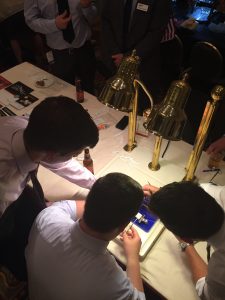 Meeting Resources
Order of Presentation for Paper Competition
James Foster, MD, FACS Memorial Lecture
A Surgeon in Congress: The Exit Interview
The Honorable Daniel Benishek, MD, FACS
Retired, US House of Representatives, (MI-1); Retired, General Surgeon, Dickinson County Healthcare System
After a 30-year career as a rural surgeon in Michigan, Dr. Benishek represented his patients and constituents in US Congress for three terms. He will share insights on topics ranging from the role Congress plays in the delivery and future of healthcare, to why he declined to return for a fourth term. He invites questions from his CT surgical colleagues. This session will help identify social, economic, and political factors in the delivery of healthcare in the United States and how surgeons can impact the future trajectory of patient care.
Special Lecture
First Do No Harm: The Role of Palliation in Emergency General Surgery
Kimberly A. Davis MD, MBA, FACS, FCCM
Professor of Surgery, Vice Chairman of Clinical Affairs, Chief of the Division of General Surgery, Trauma, and Surgical Critical Care, Yale School of Medicine, Trauma Medical Director, Surgical Director Quality and Performance Improvement, Yale-New Haven Hospital
At the end of this session attendees will understand the probability of survival by decade for emergency general surgery. The lecture will discuss the pitfalls in communication around the probability of survival after critical illness, and review the conscious and unconscious biases that patients, families and care providers bring to discussions around palliation
Surgical Quality Lecture
ERAS and The ENERGY Experience: Incorporating it in Your Practice
John Morton, MD, MPH, FACS, FASMBS, ABOM
Vice-Chair, Quality, Division Chief, Bariatric and Minimally Invasive Surgery, Yale School of Medicine, Chair, Committee for Metabolic and Bariatric Surgery, American College of Surgeons, Past-President, American Society for Metabolic and Bariatric Surgery 2014-2015
This session will help participants determine pre-op, intra-op and post op process to enhance recovery following surgery.
Joint Resident and Medical Student Lecture
Reaching Millenials: How Podcasts and Other Technologies are Bridging the Educational Gap
Kevin Kniery, MD
Co-Founder Behind the Knife Podcast; New York Presbyterian Vascular Fellow
At the end of this lecture attendees will be able to describe the way in which the millennial generation learns, and how best to use new technologies to educate them.
Surgical Skills Competition Winner
UCONN Health General Surgery Residency Program
Exhibitors and sponsors
Sultan Ahamed, MD, FACS General Surgery Competition Sponsor
CMIC Group
Breakfast and Break Sponsor
Edwards Lifesciences
Silver Meeting Sponsor
Mallinckrodt Pharmaceuticals
Surgical Skills Competition Exhibitors
Applied Medical
Designs for Vision, Inc.
Edwards Lifesciences
Ethicon
FUJIFILM SonoSite, Inc.
Intuitive, Inc.
Karl Storz Endoskope
Medtronic Advanced Surgical Technology
Medtronic GIH
Olympus America
Simulab Corporation
Stryker Corporation
W. L. Gore and Associates
Scientific Exhibitors
Abbott Nutrition
Bard Davol
Baxter
CMIC
CSL
Behring
Connecticut State Medical Society
Designs for Vision, Inc.
Hitachi Aloka
Integra LifeSciences
Irrimax Corporation
Mallinckrodt Pharmaceuticals
Medsource
Nephron Pharmaceutical
New England Medical Books an Elsevier Affiliate
Pacira Biosciences
Portola Pharmaceuticals
Takeda Pharmaceutical Company Limited
US Army Recruiting
US Navy Recruiting
Z-Medica