The 2018 Annual Meeting will held on Friday, 19 October, at the Marriott hotel in Farmington, CT.
2018 Chapter Members     2018 Senior and Retired Members
Chapter By-Laws
2018 Agenda Book        2018 Abstracts
Final and Updated Order of Presentation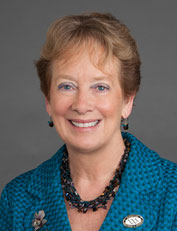 Foster Lecturer: Julie Freischlag, MD, FACS, FRCSIre, FRCS  – The Need for Greater Inclusion and Diversity in Surgery
Julie A. Freischlag, MD, is the chief executive officer of Wake Forest Baptist Medical Center and dean of Wake Forest School of Medicine. Previously, Dr. Freischlag was vice chancellor for Human Health Sciences and dean of the School of Medicine at UC Davis.
Freischlag has helped to drive change in academic medicine with a deep commitment to diversity and inclusion. For more than 15 years, she has led education and training programs at top medical schools in her role as professor and chair of surgery and vascular surgery departments. Her national leadership includes serving as a former governor and secretary of the Board of Governors and a regent and past chair of the Board of Regents of the American College of Surgeons.
She has mentored students, residents and young faculty and is a frequent speaker on teamwork and patient safety, leadership and work-life balance to women succeeding in health professions. Freischlag has dedicated her career to serving as a role model for her students, a respected colleague across health professions, a strong community leader and a national voice for improving health and health care. She will speak on the Need for Greater Inclusion and Diversity in Surgery.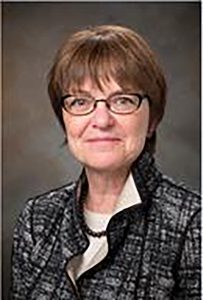 Quality Lecturer: Ronnie Rosenthal, MD, FACS – Using NSQIP-style protocols to Improve Care in the Geriatric Population
We are equally honored to have Ronnie Rosenthal, MD, FACS, Professor of Surgery; Surgeon-In-Chief, VA Connecticut Healthcare System introduce the Collaboratives Geriatric Surgical Protocols.
Dr. Rosenthal was our partner in developing these protocols which we are confident will lead to better quality care for our geriatric surgical patients.
She is Co-Director of the American College of Surgeons NSQIP Geriatric Surgery Pilot program; Co-Principal Investigator, CQGS Project; and Chair, ACS Geriatric Surgery Task Force.
Dr. Rosenthal and Alan Meinke, MD, FACS, President of the CtSQC will be premiering the newly produced video highlighting the new protocols.
Surgical Skills Competition Winner: St. Mary's Hospital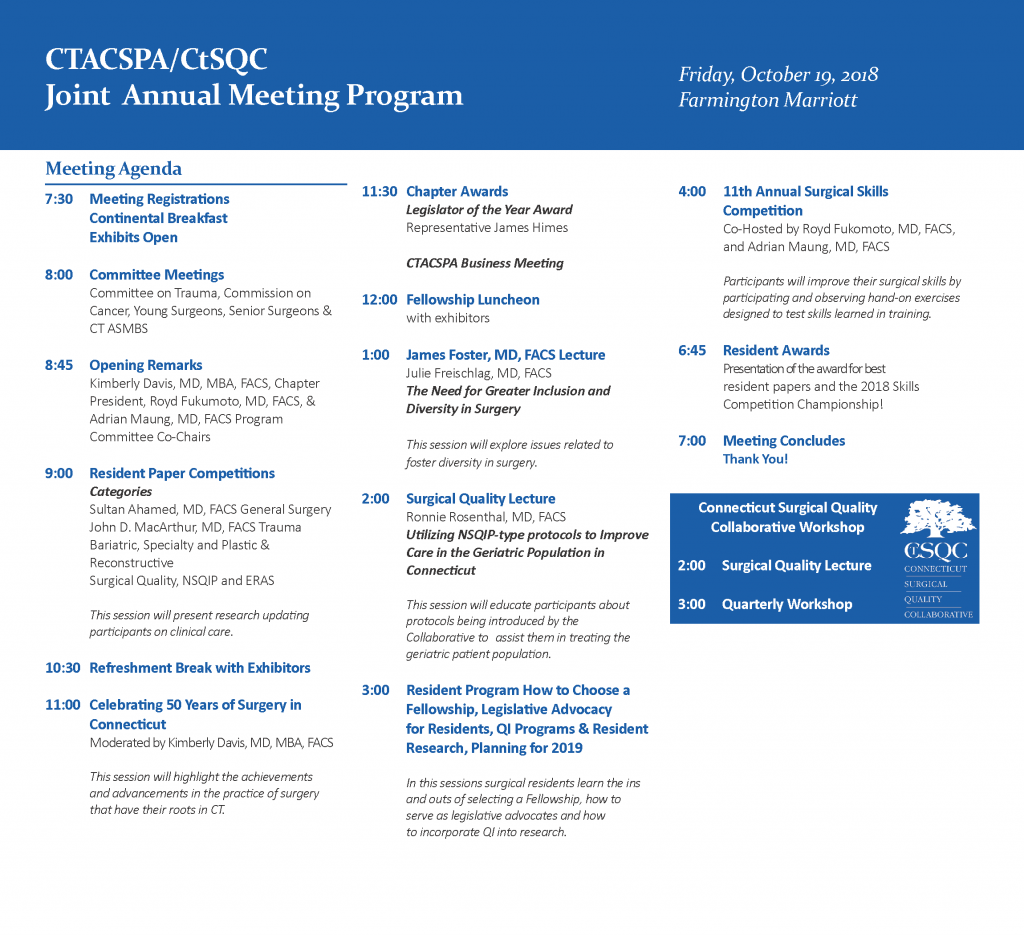 ---
Meeting Registration
Click here to register and pay online
---
---