The Annual Meeting of the Connecticut Chapter of the American College of Surgeons will be held on Friday, October 30th. Chapter leadership has decided to make the 2020 meeting virtual to help protect the heath and safety of the surgical community and our patients.
More information will be forthcoming, but it is expected that the Resident Paper Competitions will be held on Tuesday October 27th and Wednesday October 28th in the late afternoon or evening. Final times will be determined once we have all the papers in hand and the competitions spaced out. The 1st place papers from all categories will be presented again on Friday October 30th in the morning as part of the online Chapter meeting.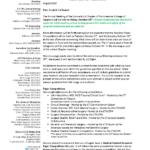 Click on the image to the left to download the 2020 Call for Abstracts.
Key Dates Summary
Submission Start Date:  Open now – see below
Submission Deadline: 5PM Thursday, September 3, 2020
Acceptance Notification: End of day – Wednesday, September 23, 2020
Presentation Deadline:  5PM Wednesday, October 21, 2020
Competition Categories
John MacArthur, MD, FACS Trauma/Critical Care* – Hosted by the CT Committee on Trauma
See separate rules for this competition in the guidelines.
Clinical Oncology – Hosted by the CT Commission on Cancer
Sultan Ahamed, MD, FACS General Surgery – Hosted by the CTACSPA
Plastic & Reconstructive Surgery- Hosted by the CTACSPA
Surgical Subspecialties – Hosted by the CTACSPA
Surgical Quality, NSQIP and ERAS – Hosted by the CT Surgical Quality Collaborative
Bariatric and Metabolic Surgery – Hosted by the CT Chapter of the American Society for Metabolic and Bariatric Surgery
Medical Student Research Competition- Hosted by the CTACSPA
*The winner of the Trauma competition will be competing in the COT Region One Resident Paper Competition